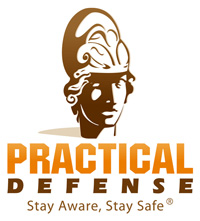 Practical Defense podcast
A practical approach to staying safe in our increasingly dangerous urban environments. Learn simple strategies and everyday habits from Alex Haddox that will help protect you and your loved ones from harm. Hear interviews with experts on the criminal mind and listen to stories directly from real victims. When you understand what a criminal looks for in a target, you can avoid taking on those characteristics and thus escape selection.
Over 2.78-million downloads!
NOTE: Practical Defense is now on a once monthly schedule.
Practical Defense 260 - 299 Days
Sunday, 30 June 2013

Duration: 00:41:21
Direct Download: (23.8MB)
---
299 Days - We discuss prepping and writing with Novelist Glen Tate, author of the 299 Days series.
(c) 2013 Palladium Education, Inc.
keywords: 299 Days, Glen Tate, interview, prepping, planning, collapse
Online Guard Card Training Sites for California
This security guard card training trusted by national and international companies. It is used on 5 continents! Fully licensed by the BSIS.
Private Security Guard Card Training manuals and materials for California, Arizona, Hawaii and Illinois. A complete turn-key training package. Just open the box and start teaching! (state-issued training licenses required)
Visit Security-Training-Center.com for the best classroom guard card training. They have the highest-quality training at the lowest prices anywhere in California and the Los Angeles area. Facilities locations include: Northridge, Upland, Burbank, Huntington Beach, and Ventura County. Fully licensed by the BSIS.
Fully licensed by the Arizona DPS.
Visit PalladiumOnlineSecurity.com for the top online guard card education and training. The program was developed in-house and uses the latest in online education best practices. Set your own pace for Guard Card training with a state of the art learning management system!
Related Links
Security Professionals Podcast
With host Alex Haddox, the Security Professionals Podcast is your weekly source of news, tips and education for the security specialist. Every security professional has a duty to train and keep up with the latest news, techniques and strategies to combat threats aimed at the people and places we are hired to protect. This show is a critical part of any continuing education program.
PalladiumEducation.com
Corporate Education and Training, instructional design, eLearning, manuals, books, eBooks, and training materials.
Facebook.com/PracticalDefense
Practical Defense Facebook Fan Page. Get the latest updates on the show and other projects.
Twitter.com/PracticalDef
Alex Haddox on Twitter. Have daily safety tips and reminders sent directly to your mobile phone.
Armed Citizens' Legal Defense Network, Inc.
The Armed Citizens' Legal Defense Network, Inc. supports Network members in their interaction with the criminal justice system after an act of self-defense.
---
This work is licensed under a
Creative Commons Attribution-NonCommercial-NoDerivatives 4.0 International License
.